Musical Fidelity M6x DAC wins EISA Award 2022 - Best DAC. Writing digital history again.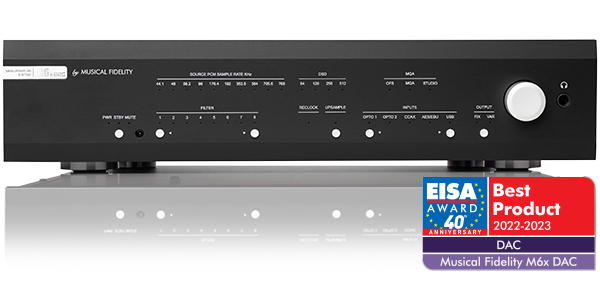 We are proud to announce that Musical Fidelity has won the prestigious EISA award for 2022/2023 in the category "DAC".
OFFICIAL EISA Award citation: Hailing from the DAC pioneer, Musical Fidelity's M6x DAC is a worthy successor to the Digilog model that started it all – in 1988. There's a lot going on behind its unassuming but finely crafted aluminium chassis, including a bespoke clock solution and pair of the latest ESS DAC chips operating as a dual mono design, supporting hires material to 768kHz/32-bit and DSD512. Put into action, it delivers amazing insight, imaging and detail, with eight filters available to finetune its sound to your taste. Inputs, including USB-B and AES/EBU, will cover just about every digital source. And the M6x DAC isn't just an excellent addition to a speaker- based separates system – there's a fine headphone amplifier built-in too…
We have been pushing the envelope in outboard DAC design for decades now. The M6x DAC is the pinnacle of our efforts and our top of the line dac. Welcome to the top.
Read more about our latest EISA Winner!